Build Your Own Taste Of Home - Extra Large (16 items)
Give them what they really want! Choose 16 classic Aussie treats
What's In The Box
The best cure for homesickness, our Down Under Box will make you feel right at home!
Build your box by selecting a combination of your favourite Aussie treats. Choose between classics like Vegemite, Tim Tams, Milo and more!
Make your box truly personalised by uploading a photo from the family album and a short personal message for us to print and place inside the box. All boxes also include a small kangaroo or koala toy.
Perfect For
Aussies missing home
Do you know someone who is missing home? Send them a box of Aussie treats to cure their homesickness
Visitors to Australia
Are you looking for the perfect welcome gift for an international guest? Down Under Box has you covered.
Colleagues working overseas
Reward your amazing team or remind your colleagues on secondment that they are missed with a box of Aussie treats.
Reviews
Customer Reviews
11/20/2021
A tiny piece of home….
Hi, my name is Denise. My daughter Maddison is currently working overseas in the UK as a paramedic and she was overjoyed to receive the care package. Thank you so much for the prompt delivery. I will be organizing another in the near future!
Maddison B.

United Kingdom
11/19/2021
A little taste of home
Our friends in the US are really enjoying a taste of Australia.
Anonymous

United States
11/09/2021
Down under box to Amsterdam
Excellent the way you compiled and kept us informed of journey in this pandemic. Thankyou and would do it again
Anonymous

Australia
11/02/2021
Very good
Great product, quick delivery.
Amanda

Canada
10/29/2021
Great job
I was thoroughly impressed with the whole service. It was easy to order and great regular emails regarding delivery progress of item. Most importantly the recipient really liked the package !
Anonymous

Germany
10/20/2021
A very happy Aussie!
My friend was thrilled with her gift since she hasn't been able to go home to Australia in over 2 years thanks to the world-wide Shamdemic.
Anonymous

United States
10/13/2021
Five stars
Great service. First delivery wasn't moving or being updated and they kept an eye on ot and informed me that it was probably lost but they followed it up immediately and sent out a replacement which arrived quickly. The receiver loved it
Anonymous

Vietnam
10/13/2021
Build Your Own Taste of Home-XL
Awesome!!!!! my daughter who lives in San Diego absolutely loved her thankyou gift!!! The Build Your Own Taste of Home Box XL.had all her favourites!!!! Thankyou this made me us emotional. This deserved a definate 5 STAR
Beverley A.

United States
10/12/2021
I purchased one of your boxes to send over to the Netherlands to my son and his family. They loved the items, reminders of home.
Anonymous

Netherlands
09/29/2021
60th birthday surprise
Ordered and delivered to British Columbia all within 14 days. Absolutely fantastic considering Covid and not too many flight going o/s.
Fiona W.

Canada
09/27/2021
Great gift
Excellent in all respects.
Bruce F.

Singapore
09/23/2021
Gift
Contents ok. Still waiting for confirmation of its delivery.
Anonymous

United Kingdom
09/22/2021
Delivered to Fiji
Very User friendly online experience in. Building a box 16 selected items looked great in the striking promotional packaging DownUnder Box Was a lovely surprise for my sister !
Anonymous

Fiji
09/19/2021
Happy repeat customer
My brother received his Down Under Box just before his birthday and rang to tell me how happy he was with my gift. So thank you for making his day by providing a great service.
Anonymous

United States
09/18/2021
Amazing experience
The process was smooth start to finish and the box was delivered well before I expected!
Anonymous

United States
09/04/2021
Excellent!
I am so happy with the efficiency of Down Under Box, I ordered a large box to be sent to my son in Vancouver and it arrived within a week from Brisbane Australia. I was gobsmacked . I though I'd order it early re COVID, well I shouldn't have been concerned. Great job guys
Shelley S.

Canada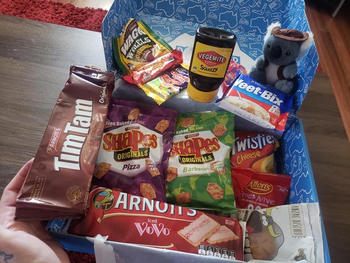 09/04/2021
Thank you!
Loved it! Will definitely order again. Cannot thank you enough for this amazing service.
Jack C.

United States
08/25/2021
Maria K.

Canada
08/22/2021
fantastic
great, items delivered on time to USA
Anonymous

United States
08/19/2021
Terrific
Excellent to hear from our family and friends how excited they were to receive this gift box during lockdown. Can't thank you enough for putting smiles on people's faces during these difficult times. ***
PAULA G.

Australia