Build Your Own Taste Of Home - Extra Large (16 items)
Give them what they really want! Choose 16 classic Aussie treats
$95.00
or make 4 interest-free payments of $23.75 AUD fortnightly with
More info

$20 Delivery

Secure payment

Contact Us
What's In The Box
The best cure for homesickness, our Down Under Box will make you feel right at home!
Build your box by selecting a combination of your favourite Aussie treats. Choose between classics like Vegemite, Tim Tams, Milo and more!
Make your box truly personalised by uploading a photo from the family album and a short personal message for us to print and place inside the box. All boxes also include a small kangaroo or koala toy.
Perfect For
Aussies missing home
Do you know someone who is missing home? Send them a box of Aussie treats to cure their homesickness
Visitors to Australia
Are you looking for the perfect welcome gift for an international guest? Down Under Box has you covered.
Colleagues working overseas
Reward your amazing team or remind your colleagues on secondment that they are missed with a box of Aussie treats.
Reviews
Customer Reviews
07/27/2021
Downunder Delight.
The Downunder Box was such a big hit with my recipient I have no hesitation in recommending this quality product. It was also fun creating a Build Your Own Box. It was easy to do and the Box was delivered in a timely manner. Highly recommend and will definitely be creating more Boxes.
Alan H.

Australia
07/26/2021
Wow wow wow
I sent the box to my family in USA they loved it sent a huge thank you In locked down times it just what they needed. Was easy to order and arrived very quick They love it.
Anonymous

United States
07/23/2021
It is excellent
It was a great experience and will be ordering again in the future
Michelle s.

United States
07/15/2021
Great Gift for Aussie's overseas
It was so easy to do and the gift got delivered very quickly to the USA. Sent my daughter all her favourite things to remind her of home. She was very happy!
Anonymous

United States
07/02/2021
Down under box
Simple and easy to order and fast delivery
Anonymous

Canada
06/28/2021
Great experience love the food.
The order was delivered 2 days early and was accurate. All items were in date and nothing was damaged. I will definitely come back to down under box for my future snack needs.
David G.

United States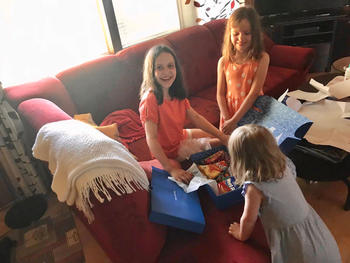 06/23/2021
Smiles said it all!
Easy to order, fantastic parcel tracking and the smiles on my Granddaughter's faces was my reward!
Graham F.

Finland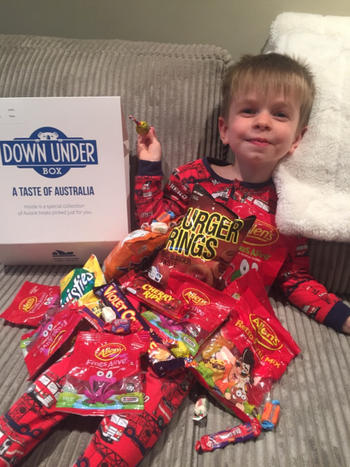 06/17/2021
Amazing
This is the second time I've ordered a downunder box and just love the experience. I live in Toronto and it's very hard nigh impossible to get my Aussie favourites so having this service is such a treat. The packaging is beautiful but it could be trimmed a little to be honest, seems a touch excessive. The 3 products I'd love to offered for future orders are Chicken Crimpy, Darrell Lee rocky road and Darrell Lea Christmas Puddings when they become available. Thanks again
Peter S.

Canada
05/31/2021
Amazing
I sent an XL box to a friend in America he loves the box
Jarrod W.

United States
05/27/2021
Great gift!
The overall experience was amazing. Superb service, easy to order and arrived in time for my sister's birthday. Will definitely order again.
Vic

Germany
05/18/2021
Finland
Excellent service. Very fast delivery. Was informed the whole way.
Markku H.

Finland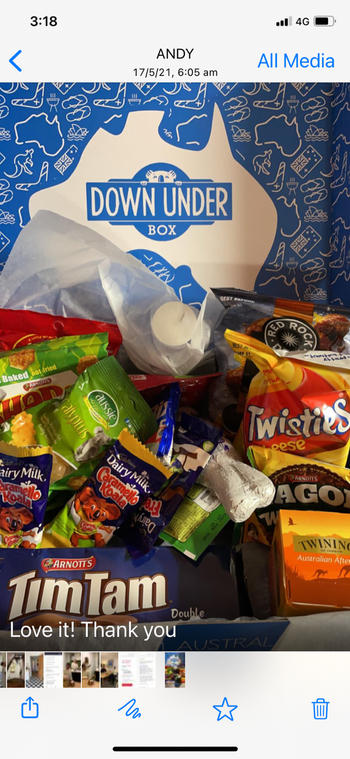 05/17/2021
Excellent Service
Bought one of these for a housewarming present for my nephew in London. Lots of communication regarding its journey to the UK. With COVID and flight issues it probably took a bit longer than normal but it arrived safe and sound and my nephew was thrilled with it. Would definitely rely purchase again if I needed to for someone else.
MEREDITH H.

United Kingdom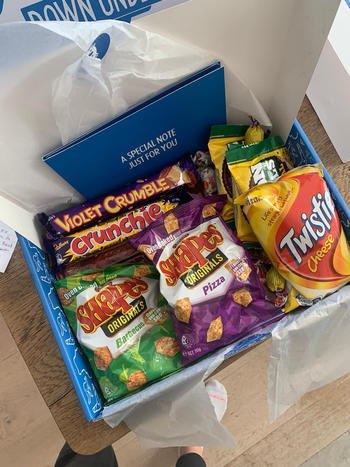 05/11/2021
A great idea
I sent a box to someone in london They were very happy with the product it arrived well presented
Jacqui G.

United Kingdom
05/07/2021
Best Gifts
This was a great way for me to share our amazing Aussie snacks with my friends around the world.
Anonymous

United States
04/10/2021
Spot on choices
Our recipient was very pleased to receive his gift. It made homesickness a little more tolerable
Anonymous

Hong Kong
04/02/2021
Build your own box
Fantastic! I ordered a build your own box for our daughter in Salt Lake City. She was thrilled to receive all the goodies from home. Tracking information was great. Thank you Down Under Box! Can definitely recommend their service.
karen r.

United States
03/21/2021
The Best Gift!
My son in London recently turned 40 & although we couldn't be together to celebrate the 'Down Under Extra Large Box' was a special gift to remind him of home. All his childhood favourites were included which he really enjoyed & a safe process with quick delivery.
Anonymous

United Kingdom
03/03/2021
Perfect gift
I sent a 'build your own' Down Under box to my cousin who is on an extended stay in New York. She was SO excited to get treats from home - especially the BBQ Shapes! Ordering the box was so easy and the communication and tracking information was great and accurate. I'll definitely use Down Under box again!
Yvette S.

United States
02/28/2021
Love the easy and quick process!
When I ordered my custom box, the process was so easy to pick and select from all the items available! I even got to write a personalised note that could come with the package too! When I went to pay for the stuff, it was also an easy process! Within 24 hours of my payment, the item had already been shipped off to the post office and within 10 days, my friend had received my gift and was so elated!
Anne L.

United States