Build Your Own Taste Of Home - Extra Large (16 items)
Give them what they really want! Choose 16 classic Aussie treats
What's In The Box
The best cure for homesickness, our Down Under Box will make you feel right at home!
Build your box by selecting a combination of your favourite Aussie treats. Choose between classics like Vegemite, Tim Tams, Milo and more!
Make your box truly personalised by uploading a photo from the family album and a short personal message for us to print and place inside the box. All boxes also include a small kangaroo or koala toy.
Perfect For
Aussies missing home
Do you know someone who is missing home? Send them a box of Aussie treats to cure their homesickness
Visitors to Australia
Are you looking for the perfect welcome gift for an international guest? Down Under Box has you covered.
Colleagues working overseas
Reward your amazing team or remind your colleagues on secondment that they are missed with a box of Aussie treats.
Reviews
Customer Reviews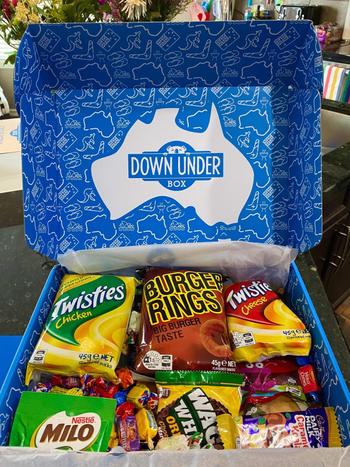 03/06/2022
Aussie Aussie Aussie
Sent one of your amazing boxes to my sister in Canada. She absolutely loved it - thank you.
Kylie C.

Canada
03/05/2022
Happy faces
My friend loved receiving the box, she was very happy with the note as a nice touch and getting to try all our snacks.
Anonymous

United States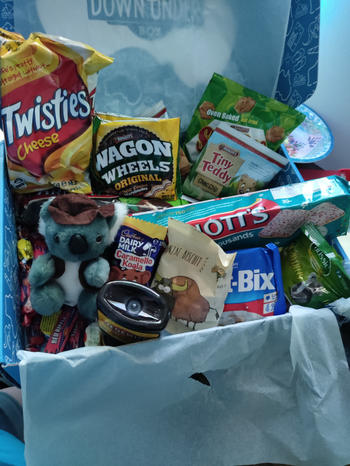 02/26/2022
American recieved as B-day Gift
Review copied and pasted from recipient: "I have yet to try something that doesn't taste good! And the box itself was very nicely packed. The stuffed koala (Billy Outback) is the cutest and very soft. 10/10 would buy again!."
duane p.

United States
02/20/2022
Down under
Well done, thank you
Jason P.

United States
02/05/2022
Fast
Fast and easy to use.
Anonymous

Ireland
02/05/2022
Amazing service in trying times
I have ordered boxes a few times for friends and clients overseas. This is the only time I had an issue with delivery - and this issue was not in the control of Down Under Box (it was a postal issue). Not only did they get a box off straight away, but went out of their way to ensure it was received and received quickly. The product is amazing and the recipients just loved it.
Chriss M.

Denmark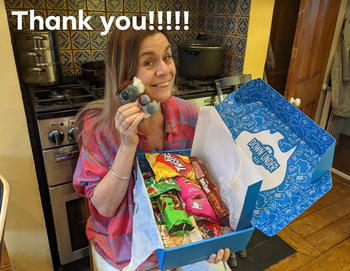 01/21/2022
Thanks again!
Website is easy to use and I received the right amount of communication regarding where the package was at. This is my go to gift for friends overseas.
Donna M.

United Kingdom
01/20/2022
Taste of home gift box
My sister (in UK) hasn't been able to come home for 2years due to Covid so this gift box was perfect as it has so many fun Aussie products in it. She loved it.
Anonymous

United Kingdom
01/20/2022
Taste of home gift box
My sister (in UK) hasn't been able to come home for 2years due to Covid so this gift box was perfect as it has so many fun Aussie products in it. She loved it.
Mel E.

United Kingdom
01/16/2022
Always high standards
I live Down Under Box. It is expensive to ship to myself overseas, but my need for Aussie products is greater than the cost of the shipping.
Anonymous

Canada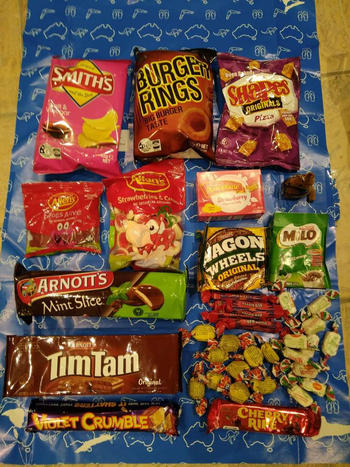 01/15/2022
Happy Customer!
The recipient was extremely happy and thoroughly enjoyed at least a few items as soon as it arrived! Thank you!
Anonymous

Estonia
12/20/2021
The item was excellent and when I gave the box to the two people I bought it for they loved it plus the pic I put with it too. But overall the box was worth the money I would buy another again. Because it's good because you can choose what you want aswell which is great too.
Marleane B.

Australia
12/15/2021
Overjoyed
Our present had the best reaction when recieved..tobe able to choose items and make up a specific box was great i will definately do this again delivery was fast and the surprise went down a treat xx
DIANNAH L.

United Kingdom
12/08/2021
Happy shopper
Great range of products to choose from. I was kept informed about where my package was and when it was delivered. Very happy.
Anonymous

New Zealand
12/06/2021
Tanja G.

United States
11/20/2021
A tiny piece of home….
Hi, my name is Denise. My daughter Maddison is currently working overseas in the UK as a paramedic and she was overjoyed to receive the care package. Thank you so much for the prompt delivery. I will be organizing another in the near future!
Maddison B.

United Kingdom
11/19/2021
A little taste of home
Our friends in the US are really enjoying a taste of Australia.
Anonymous

United States
11/09/2021
Down under box to Amsterdam
Excellent the way you compiled and kept us informed of journey in this pandemic. Thankyou and would do it again
Anonymous

Australia
10/29/2021
Great job
I was thoroughly impressed with the whole service. It was easy to order and great regular emails regarding delivery progress of item. Most importantly the recipient really liked the package !
Anonymous

Germany